HIA - Most Professional Medium Builder Award 2019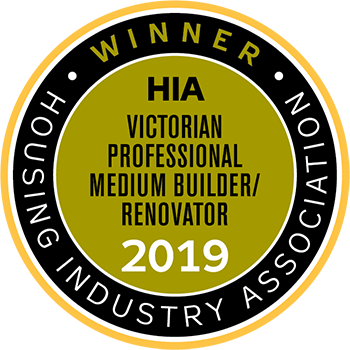 We were recently awarded as Victoria's most professional medium size builder by the HIA in the 2019 HIA-CSR Housing Awards.
According to the HIA The Professional Builder and Renovator Awards acknowledge outstanding business achievement among Australia's home builders. Recognising quality and professionalism, the Professional Builder Awards present opportunity for home builders to demonstrate their commitment to customer service, business management and leadership.
Kingsbridge Homes' strong focus on customer service also saw the company awarded the 2020 Product Review Award for home builders in Melbourne and Victoria. This award is based off our customer reviews which we take a lot of pride in.
We would love a chance to speak to you and walk you through the often-complicated build process. Please leave your details below and we will have one of our friendly team contact you.
Product Review 2020 Award Winner

ProductReview.com.au is Australia's largest consumer opinion website and aims to help consumers make better purchasing decisions. It receives approximately 35,000 reviews each month across 18 main categories and hundreds of sub-categories, and attracts over 4.5 million monthly visitors who are researching their next purchase.

The annual ProductReview.com.au Awards showcase the top performing products and services as rated by Australian consumers in the last 12 months. Kingsbridge homes has won this award for our good work during the 2019 period
---
Contact Us